Joe Newsham, Team J&E Performance Racing "In The News"



Joe Newsham Crashes At The 7th Annual Shakedown At E Town

Newsham Survives Crash But Is Injured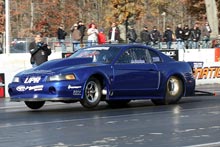 As of this writing Joe Newsham is home recuperating from his injuries from one of the most violent Outlaw 10.5 Drag Racing accidents seen in years.

The J & E Performance Cobra was on an outstanding first qualifying pass while still carrying the wheels over the 900ft mark coming down gently yet stating "Newsham" he felt and heard something break in the front suspension causing the car to veer hard into the wall at well over 200MPH on it's roof stopping hard after the flaming impact.

Newsham was the defending Shakedown At E Town Mickey Thompson Outlaw 10.5 Champion of 2008 and was surely a contender again for this title.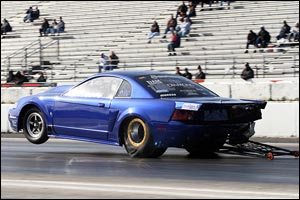 Video and photos have been circulating the internet and we will add that Arnie Cohen Videos captured this phenomenal impact and run as it happened at Raceway Park.

The crew at Raceway Park was on scene immediately and pulled Newsham from the wreckage and was taken to a nearby hospital spending a couple of days under observation with head, back and foot injuries.

Newsham stated he at no time felt he was in trouble after the impact as he was relieved to see the crew already coming to his rescue.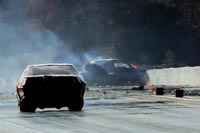 Newsham also states his Nick Montana chassis Cobra Mustang did all it could to save him from harm as it should and also includes that his Hans device was a sure factor in him still being alive after this impact.

See The Video Of The Newsham Crash By Arnie Cohen Videos Below



Joe Newsham will personally be taking time to thank all that have prayed, asked and looked to help him afterwards once he is feeling better and can concentrate on all who have supported him through this time.

Along with his sponsors and contributors that followed Joe Newsham And Team J&E Performance through another championship season











Joe Newsham Takes Cecil Win 9/05/09
Team J & E Performance were on their game !!

Photos And Information Courtesy Of GoneDragRacing.com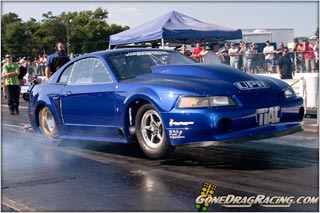 The Saturday Street Car Shootout at Cecil County Dragway by Finishline Performance is the place to really see the bad twin turbo of Joe Newsham take on all comers. Newsham has been in the spotlight all year with awesome performances and stunning outlaw 10.5 racing at its best.

Regional website GoneDragRacing.com covered this event in full with photojournalist and writer Seth Cohen handling all reports of the outstanding battles in this class of competitors while Arnie Cohen brings it right to the jandeperformance website with his full coverage off all the rounds in high quality video.


As reported by GoneDragRacing.com: Newsham took the top qualifier position with the big block Chevy powered twin turbo mustang connected directly to Joe Newsham and Ed Harper of J&E Performance.

Chris Cline of Injection Connection again dials the power into this machine to grab the fields attention with a quick 4.458 @ 171 with Twin Turbo Tommy Kasper and Mo Hall right there in the final top three as arch rivals all shooting for the seasons ending points championship Newsham must defend from last season.

Newsham 4.508 @ 170 takes the win against the team of Ken Doak with Hitman Gary Naughton at the wheel of this nasty blown Camaro.

Newsham is in for a bye run and again with the screaming, thumping power carries the front tires down track leaving a low ET for the day on the scoreboard 4.437 @ 171 while Mo Hall leaves on the red and Tom Kasper is set to be in the final with Newsham after Kasper sets the Top MPH of the event 172.23.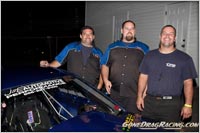 This has been a year long cat and mouse game with each driver both Kasper and Newsham vying for the winners circle in many of the finals. Newsham and Team J& E Performance head to the winners circle after defeating Tom Kasper.

Points are getting close to being finalized for the season, Team J&E Performance are due for a hard fight from the rest of the Cecil County Outlaw 10.5 Racers.


Read The Full Street Car Shootout Results Here, Photos, Videos And Reports at Gone DragRacing.com



Joe Newsham 1320X Series Points Leader:

The Pritchett Brothers Racing Outlaw 10.5 Overall Points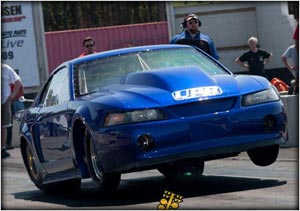 Joe Newsham and team jandeperformance is sharing the points differentials with some very big names again in the sport of Outlaw 10.5 Drag Racing. Newsham has a slight lead over Tim Lynch in this series with twenty competitors vying for a top spot. The owners of this series "The Pritchett Brothers" had just released a press announcement earlier this month they would be taking over coverage for the ORSCA Series, this is big news for the fans that see little coverage on the prime time or late night channels for that matter.

Newsham was last years ORSCA champion and now is looking at some stiff competition in this series also that abides by the typical outlaw 10.5 rules. Newsham again has a strong grip on the northeast end of outlaw racing with his twin turbo Cobra Mustang that is still in test mode handling a new power plant this year and vicious power behind it on the hot greasy tracks the northeast has seen this year from the brutal summers. Tuner Chris Cline of Injection Connection is making the adjustments to the powerband get it down the track smoothly.

Joe Newsham shares The Pritchett Brothers Racing Outlaw 10.5 Overall Points with, Tim Lynch, Bill Lutz, Bill Futch, Brenda Paddock, Dave Cox, Bryan Markicwicz, Chris Mark, Dean Parker, Brad Brand, Rick Fedorovich, Steve Hicks, Craig Pio, Jeff Harrington, Nick Scavo, Paul Jesko, Bill Mitchell, Jeff Baker, Rob Golobo and Derrick Sercy.


The Pritchett Brothers Racing Outlaw 10.5 Press Release Here:
More Info At The Official "ORSCA Series Home Page"



Joe Newsham, Team jandeperformance.com Take Cecil Win

July 4th Fireworks Racing Weekend Recap.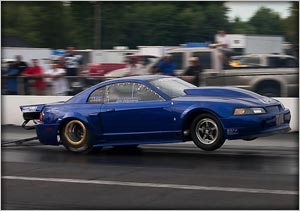 Maryland has its own little treasures it's known for, great fireworks as you cross from other states to bring home and Cecil County Dragway, home of Jim Halsey and The Finishline Performance Street Car Shootout Series that features a slew of wild classes including Outlaw 10.5, Drag Radial,7.50 and 8.50 Indexes.

Newsham again hung tough against some leaders in the class to bring the jandeperformance.com Cobra to the Winners Circle. Over the past weeks, Team J&E Performance have been sorting out the new power made by the big cube twin turbo tuned by Injection Connection. Independence Day weekend is one you would take time to go to the shore or have a stay at home barbeque to pass the time but Outlaw Racing fans decided Cecil County Dragway was the place to be for this race and their spend their holiday watching a spectacle of horsepower and tight competition as usual in this series.

GoneDragRacing.com Notes "Read The Complete Race Summary Here"
Newsham struggled with keeping the car straight under power for his qualifying, landing him in the number three slot when all rounds to get in the race were completed with a 4.91 @ 133 behind Doug Harris and Mo Hall 4.75 @ 167 respectively. Again, the power of the Cobra was evident as round wins were coming by way of mashing the throttle in and out to bypass his opponents in the 1/8th mile competition. Newsham's latter rounds paired him with Tommy Kasper driving his sons Mustang from the 8.50 Index while Kasper's own Outlaw 10.5 Mustang is awaiting a fresh engine, Newsham would hang the tires hard as Kasper would put up a triumphant effort but not a winning one against Newsham's now responding Cobra Mustang with fans delighted to see it under power and wheels up again for the semi final round win.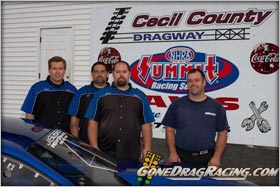 Newsham would have to face his nitrous nemesis "Mo Hall" in the end of this weekend final. Newsham gets a green as Hall goes red, but as usual the sponsors and fans of the jandeperformance Cobra were treated to the best pass of the day with Newsham on the bars for the length of the track setting low ET for the race with a 4.49 @ 168 sending the team to The Winners Circle.

Photos and Race Notes By
GoneDragRacing.com "Read Their Review Here"
Video Courtesy of "Arnie Cohen Videos"
Added Coverage By "StangTV.com Here"

GoneDragRacing.com's Photo Gallery Here, Enjoy !!


Joe Newsham 1320X Milan Win Interview
With Nate Pritchett of 1320X


Team J&E Performance outlasted the big guns of the Coast Chassis Design Outlaw 10.5 session in this second year of the series by Nate Pritchett at Milan Dragway. Joe Newsham took an unknown, untested motor combo straight to the winners circle via a final pass of 6.77 at 222 MPH against Bill Lutz.

The northeast aggressor found its way into through the ladder performing flawlessly on each pass carrying the wheels more than half track with Newsham holding all the power he could pedaling the car to set it down for a win in the final round.

Newsham again with his South Jersey manner tells it like it is in the embedded video and will look forward to more coming from the 1320X Series at many different track as can be seen in the J&E Performance Schedule.

Visit The 1320X Grass Roots Drag Racing Website Here:


Speedvision Short, Newsham Final In-Car and Interview

Courtesy Of SpeedTV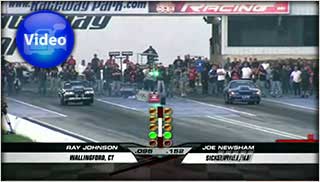 Joe Newsham may be one of the most humble winners knowing he just won the northeast's largest race of the season at the Al-Anabi Shakedown at E-Town 2008. Speed TV sent out a short video clip featuring the highlights of the second installment of the "EDGE" coverage from Raceway Park, A major TV show that took months to edit with Blue Ray technology.

Newsham is seen from start to finish in the final round both wide angle track views, in-car camera's, and slow motion of his winning run against Ray "Hollywood" Johnson.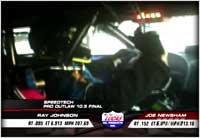 This episode in its entirety can be seen under the Lucas Oil Edge Series Shakedown at E-Town Outlaw 10.5 Part 2 in the listing on Speedvision TV cable channel. This in Joe Newsham's point of view was one of his most memorable wins of his career facing off against all the heavy hitters of the sport including ORSCA rivals, Bill Futch, Jimmy Blackmon, and The Shakedown record holder Tim Lynch. Both images are screenshots of Joe Newsham in action on the final round to glory and an expert interview after his win, a shining moment in the life of Joe Newsham and Team J&E Performance.




Visit The Official Shakedown At E-Town Website Here:

Newsham Takes Atco Quick 8 Season Opener

Photo Courtesty Of GoneDragRacing.com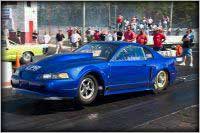 The Quick 8 class brought some heavy hitters to the track, but after qualifying was finished, it was anyone's race as they all scrambled to get tunes in the car that didn't overpower the track. Kasper & Christy Racing were laying down the best numbers in their new Mustang during eliminations, but the champ Joe Newsham wasn't too far behind them. Both South Jersey teams made it to the finals, Kasper had some technical problems on the line and the car cut off as soon as it was staged. The tree was already activated and Newsham took off, going A to B for the win.

Read The Complete Story At GoneDragRacing.com Here:

Inteview With Joe Newsham By Nate Pritchett Of 1320X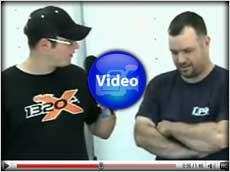 Nate Pritchett of "Pinks" television was on hand at Atco Raceway during Joe Newhsams assault on the quarter mile with the newly enhanced J&E Performance Cobra.

Newsham is candid yet determined to keep his winning streak alive this season despite an all new program of enormous power added to the already once potent championship machine that took Outlaw Racing to the top of the news stories of the year with his constant improvement at each race. The video is lined off site to youtube from yourwayvideo.




J&E Performance Takes Milan Win At 1320X Series

Photo Courtesty Of StangTV.com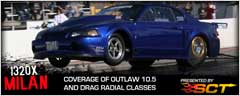 Following their spectacular season which promised more as the small 540 was now replaced with the "Big Chief" Headed 648, the new muscle motored Cobra was put to the test in competition at Milan Dragway in the first of the 1320X Series by promoter Nate Pritchett of "Pinks" television shows.

Newsham garnered not only the win in this race but the number one qualifying spot in the ladder against some very big names in the outlaw 10.5 racing circuit, Scavo, Lutz, Mitchell and so on. Newsham and Team J&E Performance is again the team with a target on their back as the season is just unfolding.

Read The Complete Story At StangTV.com Here:

Our New Website Is Here, Enjoy And Follow Us Throughout The Season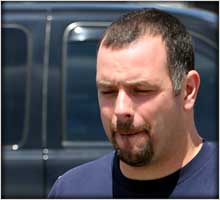 Our website is now here after jumping over various hoops to gain back our name from a person who was not using it on the net, we have it now and we intend to use it for helping you keep up with Team J&E Performance at the track, in the shop and more throughout our season in Outlaw 10.5 Drag Racing. Our new combination is bigger and quicker and testing in real time racing has found we have a ton of power to work with so Chris Cline will be on his game from Injection Connection helping to tune this new J&E powerplant from burnout to chutes opening at each event. We want to thank our sponsors and contributors who have been awaiting this new website as it was one of goDragRacing.org's largest undertakings as far as content and being both a performance shop and a racing team website, we feel you will enjoy the format, stories from various websites and news media around the Outlaw Racing world following Joe Newshams Progress.



Earlier Press And News From Previous Seasons


Northeast Champions Set To Defend Their Titles:

Joe Newsham / Outlaw 10.5 Champion: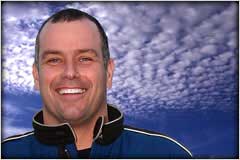 What can you say about this "Heads Up Warrior" of 10.5 racing other than he's proved himself in many ways to the point of capturing three titles including The Outlaw Street Racing Associations "ORSCA" battle as points champion, Cecil County's Street Car Shootout Series champion by Finishline Performance, The J & E Performance Quick 8's champion at Atco Raceway.
On The Heels of these championships Newsham also won the largest and most recognizable victories of the year winning the northeast's infamous Shakedown at E Town in the J & E Performance Twin Turbo Cobra in 2008 defeating the unbeaten champ Tim Lynch.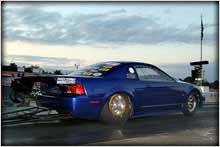 Newsham has been a standout in the racing arena by keeping himself in the spotlight but not letting it go to his head with performance that speaks for itself, His honors come from being a racing friend and competitor are well know.
The teams crew of Ed Harper and Chris Cline from Injection Connection made Joes ride so consistent it took all challenging teams to be on their game to at least take a shot at Newsham in the opposing lane. Newsham credits reach much farther than just this year, prior to 2008 his standing as an opponent was more than well known as the man to beat as Outlaw 10.5 was becoming more popular.

The team of J & E Performance is readying the car for another season featuring more power and a series schedule that will again devastate competitors.



Read The Complete Story At GoneDragRacing.com Here:



Mickey Thompson Tires And Wheels Press Release:
Courtesty Of Mickey Thompson Tires

Joe Newsham (winner) and Ray Johnson (runner-up) dominated the Outlaw 10.5 class. Newsham and Team J&E have been heavy hitters all season, and they were true to form at the Shakedown. Newsham qualified a strong number four with a 6.704@211.93 and defeated Bill Futch and Tim Lynch to get to the finals with Ray Hollywood Johnson. Congratulations to Joe and Team J & E! Joe Newsham runs Mickey Thompson part# 3169W size 33.0/10.5-16W ET Drag tires, and Ray "Hollywood" Johnson runs Mickey Thompson ET Drag tires, part # 3069W, size 33.0/10.5-15W.

Visit Mickey Thompson Tires And Wheels Here:



Joe Newsham Brings ORSCA Title Home To The North
Courtesy Of Outlawracing.com

Joe Newsham made a tremendous committment to run the entire ORSCA series this year. When asked why he would travel 13-15 hours each way to pursue the championship. He replied "he wanted to compete against the best."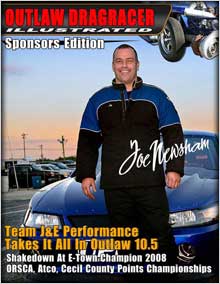 After the rainout of the first Hunstville race, Joe and the J&E Automotive Performance team picked up consecutive wins at Atlanta and the Carolina Spring Race. At the next clash at Montgomery Motorsports Park in Alabama, Joe commented that the track just kicked his butt. The team struggled and lost in the first round. Summer brought a long break for the Newsham camp to regroup and it paid off with a semi-final finish in South GA. Joe, Chris and Ed showed there championship medal by electing to wait for a troubled Tim Lynch rather than take the easy bye run win. Lynch defeated him on that run and went on to win the race. When I spoke to Joe after the race and thanked him for his sportsmanship he said matter of factly "I come to race and the fans come to see racing".

The Huntsville fall race finished with Newsham runner-up to his closest points rival Jimmy Blackmon. Two Weeks later, Montgomery again brought Newsham troubles and he lost in round 2 to eventual winner Tony Johnson. The World Finals at Carolina brought a lot of pressure to the team. ORSCA's points system requires the worst points race of the season to be dropped from the total and that put Newsham 3 points behind Blackmon. Throw in the fact that several top-notch cars that had not been part of the series this year were in attendance and he had a difficult task ahead of him. A semi-final finish for Newsham combined with a round 3 loss for Blackmon gave him the championship by a mere 18 points.

Joe is quick to thanks Chris Cline and Ed Harper for their hard work this year and several companies that have supported them including Mickey Thompson Tires.

Joe's plans for 2009 are still undecided at this point. Spending 26 to 30 hours on the road for each event takes it toll on the team and precious time away from their business, J&E Performance. He says he will work on updating the car this winter and see what rule changes are made in the Mickey Thompson Outlaw 10.5 class before fully deciding if they will defend their championship.

Read More About The Outlaw Racing Street Car Association "ORSCA" Here:



The Atco Raceway 2008 Outlaw and Index Series Season Finale' 2008
The End For A Season Of Champions:

The J & E Performance Outlaw 10.5 Eliminations Finals:
After coming off a Huge win at The 6th Annual Shakedown at E Town taking out the best; one by one, wrapping up The Cecil County Street Car Shootout Points title, Atco's Points title, and in a direct heat with Jimmy Blackmon in the ORSCA series; Newsham looked like a lock against this newcomer Daniel Fieldles. Both prepared to stage as Newsham's pedigree for the year was well know to Fieldles but he was in a fight for this title on Newsham's home turf. Newsham went into the beams, set the brake and inexplicably bumped through giving Daniel Fieldles his first win of the season before the race even started. This new Season Finale' Champ only 22yrs young faced the best in the northeast and came out the champion 7.89 @ 181 taking home the big check. All things in racing can come to those who wait and this was a big one for Daniel Fieldles. Congratulations!!

Read The Complete Story At GoneDragRacing.com Here:

The 6th Annual Al-Anabi Racing Shakedown At E Town 2008:

The Quickest and Fastest Weekend In Outlaw Drag Racing History:



Presented by Speedtech Nitrous Systems:

As Seen In The Pages Of RPM Magazine

Precision Turbo Super Street Outlaw 10.5 Eliminations: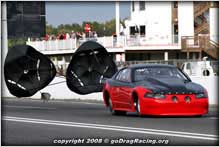 Bill Futch, Brad Brand, Todd Harris and Brad Harris get a free pass as none were challenged because of breakage. Ray Johnson takes a convincing win over Tom Ferrick, Larry Wood overpowers Bryan Markiewiecz, and Joe Newsham pedals out a win over Steve Drummond's high flying Mustang, Chuck Ulsch takes out Ed Kowalczyk in a pedal fest. Both Scott Guadagno and Leo Barnaby have faced each other before at the Shakedown with the quickest side by side 10.5 in history, this time the outcome was in Guadagno's favor as he takes the win over Leo Barnaby. Terris Hicks falters and Tim Lynch is again showing his muscle with a solid 6.56 @ 223. Tim Essick advances over John Carcinco.
Tim Lynch 6.53 @ 221, Joe Newsham 6.74 @ 215, and Tim Essick move ahead with no opponents. Scott Guadagno is handled by Bill Futch with an amazing 6.54 @ 220, Richie Sexton takes a hole shot win over Larry Wood, and Ray Johnson makes a strong run past a pedaling Brad Brand.
The battle of the turbo stangs rears in this round beginning, Ray Johnson is the winner over Tim Essick; Tim Lynch sets another Shakedown milestone with a 6.49 @ 224 over the nitroused GTO of Richie Sexton, Team Mobley is out of the big money running. Joe Newsham puts down Bill Futch in a big inch twin turbo match.
Ray Johnson takes a bye run and is looking now at the match between Newsham and Lynch for who he will face. Joe Newsham cuts a stellar .034 to Lynch's .088, Newsham is out but Lynch is up on his tires desperately trying to recover, Newsham takes the stripe with his best ever 6.67 @ 219 and into the money final.
Final Session: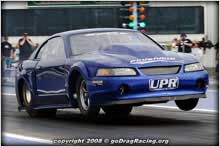 Last year neither Joe Newsham or Ray Johnson even qualified, both broke before they made a qualifying pass and now they are looking at the championship. Newsham allowed more time for Johnson to prepare as he didn't want to single to a win and Johnson made the call in time. Both were feeling the pressure as Newsham .152 makes sure he doesn't red light as does Johnson .095 and a race is on, Newsham is out of shape and brings it back in to take the win over Johnson 6.91 @ 207 to Newsham's 6.81 @ 213. Joe Newsham dethrones Tim Lynch after his string of victory's in one of the toughest 10.5 races in the country and receives the $10,000 Champions title of 2008.
Read The Complete Story At GoneDragRacing.com Here:

Atco Raceway's "Drill Em" 1/8th Mile Challenge:

Not Just Your Normal Day At The Track !!
Introduction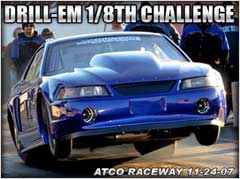 Our last race coverage for the year was to be the Season Finale' at Atco before things went on the fast track to get in one shot of 1/8th mile racing geared for Outlaw 10.5's under the guidance of Dave Hance pushing for a "Southern Style Series" to hopefully gain momentum in the Northeast.

The planned race was to be held at Raceway Park until poor weather stepped in and caused a cancellation of that event less than a week ago. Atco Raceway was contacted by racers involved pleading to have this race finish for the fans to get a look at the racing in 1/8th mile format. Atco responded quickly to the delight of the drivers and sponsors with Pro Torque Converters "Presenting" to open their upcoming Saturday schedule and bring this race to fruition and conclusion on incredibly short notice.
Qualifying Highlights
Atco Raceway's surface had felt the cold chill of sub thirty degree's over the course of the night before qualifying, a cold chill was brisk on the track and the pits as the qualifiers made entry into the lanes paired up by Dave Hance for side by side action specifically. Many Associate Sponsors were called in for added bonus' for either just supporting the race New York Motorsports, Curtis Trucking, Liberty Auto body "John Schroeder", KCS Jr. Dragsters, J & E Performance, Ed's Trim Shop, Imperial Design, Boccella's Performance, C2it Enterprises Fiberglass Repair or special awards, Caldwell Construction, J & E Performance, 5th Street Motors, All Out Automotive, Elkins Park Service as incentives to go above and beyond which you will see in qualifying, it was accomplished.
With the track now feeling warmer from many test and tune runs already taken, the 1/8th mile clocks were in sync and ready to fire off times as the cars traveled past mid track. Kenny Staib lay at the bottom of the ladder with easy hits on his car as he'd not seen the pavement in some time; the car is still phenomenal in all aspects with his first pass the nitrous never activated and his second pass he blew the the tires away not bettering his first run. Bill Mitchell suffered traction issues during both his runs but later came out to make a full quarter mile pass at over 200MPH in the 7.20's. Ed Kowalczyk handed over the keys to his brand new untested Mustang with Dave Hance behind the wheel; its first major pass on the car was wild to say the least. Jerry Morgano who had seen the final's at the "Outlaws At Atco" earlier this year clicked off early after moving hard towards the wall saving this beautiful ride. Brad Harris was just shy of making the ladder as his black Cobra spun hard in both sessions leaving him pedaling to the finish. Henry Jackson gave the all motor "Classic Car" fans something to cheer about as he rushed through the 1/8th dropping the bump to a 5.048. Dave O'Donnell powered the well known Chevelle of Lou Denny down the track man handling it as much as humanly possible; these things were set on kill. Tom Ferrick had one of his most productive days with two solid qualifiers and a deep spot in the ladder with the blazing red S10. Scott Rex entered this field as an unknown all but for his notoriety as the quickest all motor Pontiac, the classic white Firebird was severely consistent. Scott Curtis was hurt from the minute the car was started but in his usual fashion, he gets it down the track each time and into the ladder. Favorite to do damage from the NY crew; "Craig Pio" didn't let those choosing him down; pedaling this beast past the clocks and into the three spot with Joe Newsham grabbing second by a wide margin. Newsham thinking he had it all to himself with top speed honors from Caldwell Construction 166.36 only to be bettered by Charlie Dolbin's one pass since his first run was a backfire as the transmission popped out of gear on the starting line hitting the limiter. The team thrashed franticly for the next round and answered the friendly Post Race arguments of Team J & E Performance to Team Caldwell putting away the nitrous bottles and going turbo showing them up by the narrowest of margins 4.530 @ 162.76 taking J & E Performance Money for Low ET and Elkins Park Service's Number One qualifier by .003. Full Qualifying Below

Atco Raceway's "Drill Em" 1/8th Mile Challenge 10.5 Racers Information
1 :Charlie Dolbin / Harold Caldwell "Owner" 4.530 @ 162.76 : 1990 Mustang, 728 Fulton BBC, Nitrous, Bruno / Lenco - Caldwell Construction, CD Race Cars, Fulton Racing Engines, Mickey Thompson Tires, Neal Chance Converters
2 :Joe Newsham 4.533 @ 166.36 : 2003 Mustang Cobra, 540 BBC, Twin Turbo, Glide - J & E Performance, Injection Connection, M & R Products - Restraints and Tie Downs, Imperial Design, Montana Brothers Race Cars, Performance 2 Way Communications
3 :Craig Pio 4.693 @ 156.43 : 1995 Camaro, BBC, Twin Turbo, Glide - Montana Brothers Race Cars, Scrivener Performance
4 :Scott Curtis 4.721 @ 150.15 : 1966 Chevelle, 632 Big Chief BBC, Nitrous, Power Glide - Henry Jackson Racing Engines / Curtis Trucking / Paul Walder / Steve Ficcaro's Auto Body - 2005 Atco Raceway "Quick 8" Champion
5 :Scott Rex 4.760 @ 148.84 : 1997 Trans Am, 572 IA II Pontiac, All Motor, Glide - Rex Racing.com, All Pontiac.com
6 :Tom Ferrick 4.874 @ 149.55 : 2000 S10, 385 SBC, Single Turbo, Glide - Lorenzo's Fast Flow Cylinder Heads, 5th Street Auto's, Tuning By Harry Anderson
7 :Dave O'Donnell (Lou Denny Owner) 4.931 @ 146.15 : 1970 Chevelle SS, 738 Fulton BBC, Nitrous, Lenco - J & E Performance, Fulton Racing Engines, Montana Brothers Race Cars, Applied Nitrous Technologies, Finishline Performance
8 :Henry Jackson 5.048 @ 143.80 : 1969 Camaro, BBC, All Motor, T400 - Henry Jackson Racing Engines
9 :Brad Harris 5.059 @ 144.07 : 2003 Cobra Mustang, 421 SBC, Twin Turbo, Glide - Harris Brothers Motorsports / Harris Industrial Park.com, Injection Connection, Teddy Houser Race Cars, Dave Kogan Racing Engines
10 :Jerry Morgano 5.195 @ 152.06 : 2002 Cobra, 409 SBF, Twin Turbo, Glide - DiSomma Racing Engines
11 :Dave Hance / Ed Kowalczyk "Flyin Frog" (Owner) 5.236 @ 113.13 : 1985 Mustang, SBF, Twin Turbo, Glide - Flyin' Frog Racing, DiSomma Racing Engines, Coast Chassis Design
12 :Bill Mitchell 5.513 @ 125.18 : 1996 Chevy S10, Twin Turbo SBC, Glide - The Repair Shop, Coast Chassis Design, Franklin Trailers
13 :Kenny Staib 6.266 @ 122.85 1968 Camaro RS, 533 BBC, Nitrous, Glide - www.Sponsors Connection.comCoast Chassis Design, DiSomma Racing Engines
Atco Raceway's "Drill Em" 1/8th Mile Challenge Round One:
Now ripe with warming sun, the track was ready for horsepower and skill to win the rounds. This challenge was set on the premise that a better driver would win over the quicker car on the tree and getting from point A to point B consistently. It would show later that everyone's trigger better be set light. Scott Rex and Scott Curtis lined up for the first pairings, Rex lays down a great .021 but Curtis replies with a stellar .008, both cars traveled the 660' in the groove with Rex losing 4.783 @ 147.79 to Curtis' unwavering from qualifying 4.684 @ 153. Craig Pio faced Tom Ferrick's S10 next pairing as the ladder tightens between the racers going with number six and number three. Pio launches with an .019 light to Ferrick's stumbling .249 "27 second stroll" ending his day as Poi stays in it till the end 4.761 @ 160.50. In qualifying Joe Newsham had again thought he had it set for the day with his best light .003 and now faced Dave "Hitman" O'Donnell in the beams. Newsham unleashes the Mustang too early going RED -.008 4.561 @ 168.22 while Dave O'Donnell takes his win and also stays in it shaking the tires hard .067 4.918 @ 140. Henry Jackson goes from the bottom of the ladder to the main victory run as "reaction time theory" is proven while running against Charlie Dolbin whom in qualifying bettered Joe Newsham's .003 with a perfect .000 light. The little Mustang left the corral to early going RED -.004 but again proving the car is deadly consistent 4.527 @ 161.98, Henry Jackson moves on to next round easily .063 5.473 @ 97 in the all motor Camaro. Both racers later commented that Atco's pre race prep was excellent and the reaction of the car was much quicker causing the red lights, they thanked Atco for the bite as racers though they were out of the competition.
Atco Raceway's "Drill Em" 1/8th Mile Challenge Semi Final:
With the semi's now in the lanes and a match race scheduled between Joe Newsham and Charlie Dolbin for the fans coming up with them, Atco's track was well worked over and ready for close racing. On the tree it doesn't get any closer with Henry Jackson going .034 to Scott Curtis' .032; Jackson is on a pass launching the Camaro hard as Curtis is duplicating the same starting line technique. Scott Curtis hangs on to the now heavily smoking Chevelle taking the win 4.730 @ 150.16 over his own engine builder Henry Jackson 4.894 @ 144. Dave O'Donnell brought Lou Denny's Chevelle into the beams as Craig Pio was led in also paired for a turbo vs. nitrous match. O'Donnell .059 gets on it hard again with the car leaving strong only to begin smoking the tires wildly as Craig Pio was out in front .048. Pio 4.768 @ 150.13 wins as O'Donnell can only watch from behind 8.298 @ 25. The final pairing would meet the two most consistent cars of the day with the sun closing on the track quickly.
Match Race Madness Team Caldwell Vs. Team J & E Performance
This race may have been the final round as word spread through the community. Early in the rounds both racers were eliminated by red lights, as a good natured battle between these rivals and friends, they attempted to set the record straight on the turbo vs. nitrous debate with a prime surface and excellent conditions for a turbo car compared to a nitrous machine. Joe Newsham and Charlie Dolbin moved into the lanes with fellow racers packing the burnout box behind them for the outcome to follow. Both racers went red on the hit, Newsham -.002 to Dolbin's -.009, from there on, Dolbin had the race to the finish as Newsham's car cut off 6.57 @ 836 MPH, yes that's what the time slip says to Dolbin's 4.531 @ 161.05 and a win light in his lane. Dolbin is declared the winner but the off season is long and this will now heat up the forums and bench racing fans for the year in preparation.
Atco Raceway's "Drill Em" 1/8th Mile Challenge Final:
Temperatures dropped wickedly during the semi and this final, already into the sub forty's it was cold, menacing and more than many could bear. Racers and fans braved out the frigid temps to see Craig Pio vs. Scott Curtis race to the eight covered in blankets, warmers and what have you to withstand the cold and view the final. The track was still gripping hard as most of the day proved and Curtis would need to get a reaction time number to try and compete with the turbo of Pio who had been quicker most of the day. Pio does a quick burnout after Curtis shredded the big hides on the Chevelle, the Curtis machine was in severe pain as smoke was emanating from every possible place on this ride, it was hurt and hurt bad as the putrid, acrid smell of burning engine was hanging all over the track and Pio looked good as the car staged. The underdog in this race Scott Curtis hammered Craig Pio on the tree with the best reaction time of the race dropping it to .003 against Pio's .035. Curtis takes the money on this pass from All Out Automotive for the best light of the day. Curtis hazed the starting line in a cloud of burning oil and metal sticking to his game plan while Pio struggles to gain traction with a hurt converter pedaling the car in and out to a losing 5.582 @ 116.39 to Scott Curtis' bracket like performance 4.831 @ 138 definitely down seriously on power. As the car came to the tower for winners circle pictures and presentation, the car was still smoldering from his pass as it was driven back under duress. When the smoke finally cleared, Curtis and team posed for pictures as winners in a tough 1/8th mile challenge that proves the fastest car doesn't win. Congratulations to Scott Curtis and Team on a solid showing adding to their pockets Paradise Racing's winners bonus.
Race Summary:
As Atco adopted this challenge and allowed for a quick repositioning of this race, many of the racers that are supporting the 1/8th mile format were in trial mode. Drivers sensory was heightened to the fact that less time to do more was of optimal importance and the way the racers used this made many advance or decide their future in the rounds with trying to get the most out of their combinations and skills as teams and drivers. More than enough controversy surrounds this issue as the rules and racing in the northeast will be reviewed for the season coming forthwith. This trial was a success in many eyes but you just can't judge it on this one event with such short notice, weather factors and a big Thanksgiving weekend where many were on vacation or away visiting. Car counts could have been much larger but factor in all the things not in favor of people being able to come on this day was only pure coincidence from commitments during a busy holiday weekend for racers and family's. Atco Raceway did their part in allowing the time and energy of the staff with one of the years best surfaces to prove just how quick heroes or loser's can be made measured in thousandths of a second. Props to all racers that opted to involve themselves in this adventure into the diverse racing scene now to be debated over the off season.
gDR would like to thank all the racers that too their turn in this challenge and see what may be the future for this type of racing. Atco Raceways staff that put the track on kill, not just for this challenge but all racers that found themselves victims or champions of their own personal bests from the incredible bite. Fans of this racing that stayed in the stands and pits withstanding temps most tracks would have forbidden cars to ravel to the top end. Our pleasure following the sponsors both main and associate plus special awards to give extra where it was due. "Dave Milcareck" www.davemilcarek.com for sharing the sidelines and allowing racers photos by the best there is for purchace at the track and at his website. Until next season, be prepared for cars to get quicker, faster and more consistent at Atco Raceway.