We hope to give you a little insight into our team J & E Performance's backgrounds with a short bio and some internal views on the accomplishments and basics of their duties. Not only does the two main elements of the team work as J & E Performance; as in "Joe Newsham" and "Ed Harper", together they are a part of this team and spend as much time on the track as in the shop finding new ways to win with Tuner "Chris Cline" from Injection Connection doing the tune ups and calculating the massive power. The team this year is getting stronger with each race and it's no surprise that the amount of work, effort and time this team puts into the race preparation, dedication to the sport and tuning of the most winning Outlaw 10.5 Mustang in 2008 will continue into 2009 and beyond.

Take a look and see what Team J & E Performance is about in their profiles.



Welcome to Team J & E Performance Racing Biography Page.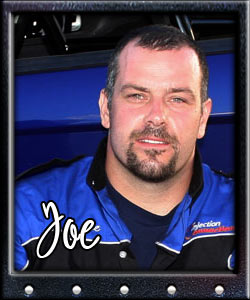 Joe Newsham: Driver / Owner
Hometown: Sicklerville, New Jersey
Age: 39
Occupation: Owner / Driver Of J&E Performance and Outlaw 10.5 Mustang
Skills: Twenty four years of Drag Racing experience, Engine Building, Chassis and Transmission Specialist.
Racing Credentials: Over the years, Joe Newsham has rung up many credentials in his past years that certify him as one of the top winning outlaw 10.5 racers in the country. The 2008 year was exceptional in all ways taking points championships at Atco Raceway in the J&E Performance Sponsored Quick 8's, Cecil County's Street Car Shootout, and the now infamous North / South competition in ORSCA as Newsham took that championship also in his first full year with the organization. A huge accomplishment for the end of the year was taking the Outlaw 10.5 Winners Circle at The 6th Annual Shakedown at E-Town, and is featured on Speedvisions "Edge" television for Team J&E Performances efforts.

About Joe Newsham:
At almost anytime or any day, you'll find Joe Newsham out of his shop when time permits and actively racing or helping teams even during competition he doesn't falter to make sure his opponents have a chance to race even though it may cost him a race win, he goes for the challenge. Newsham's career has been eventful to say the least. Newsham has been featured on television, Internet news websites, and magazines such as garnering the cover of RPM Magazine for the 4th annual Shakedown at E Town, Race Pages, and various editorials by leading authors of the sport.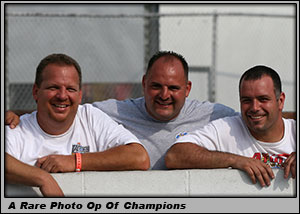 Joe will be candid at the track and in the shop, a true professional gentleman of the sport. The number one racing news website "goDragRacing.com" awarded Newsham the Overall Driver Of The Year as quoted "The twin turbo Mustang from J & E Performance was a number one pick as the car to beat in 2006. Joe Newsham handled the driving and Injection Connection tuned this machine to some of the northeast's quickest and fastest times throughout the year while seamlessly swapping over from a small block twin to a big block twin. Newsham has played in the northeast on all levels. His track presence is highlighted by the fact that not only can he run at the top of the points with all the others but also move through categories of race's like both the 10.0 and12.0 Index to even out his skills as a driver and a complete racer."

More awards came later on as the outlaw racing took off big time and went to an almost anything goes format as the years moved forward. Respectively the Team with Newsham's leadership has seen many accolades for best appearing ride, best appearing team and so on. The years to come will certainly follow this immensely popular driver and team to even more distinction in Outlaw Racing.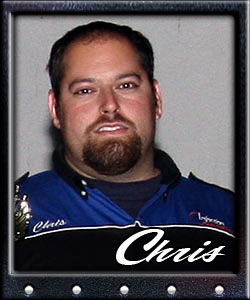 Chris Cline: Crew Chief / Tuner

Hometown: Dresher, Pennsylvainia
Age: 32
Occupation: Injection Connection Tuning Expert
Skills: Fourteen years of racing industry standard performance fuel, spark, and data management
Racing Credentials: Though young in age for his abilities, Chris Cline has made the J&E Performance Outlaw Cobra a feared opponent through his exceptional crew chief status and tuner extraordinaire'. His roll as both at both of these positions comes from a backing of one of the top tuner facilities on the east coast in the form of Injection Connection. You'll rarely find someone who has put so much effort into a program that is always evolving with updated engine management, fuel and spark acquisition to bring out more power than this car will ever need on the track but make use of it properly and efficiently on each pass. Cline's potential as a tuner hasn't even reached its peak, yet he shares in all the above mention wins and championships as stated above in the Newsham Accomplishments with Team J&E Performance as the tuner that took control and headed the team in a direction that is now the talk of the northeast in his abilities as a consummate tuner and crew chief.


About Chris Cline: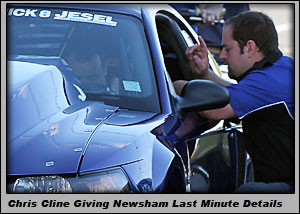 This year started out with a new larger cubic inch engine combination for Team J&E Performance with bigger cubes and a much more advanced reality of how it will handle the course of its passes down the track. Chris Cline and the team pulled out so much power out of the last combination of one of the smallest engines in its class to be consistent and fast at the same time to be a part of all these championships that J&E Performance has acquired.

Cline will surely use his skills developing more over his coming years to advance Team && E Performance through more rounds and wins from his advanced knowledge gained by being part of this team and his Injection Connection background.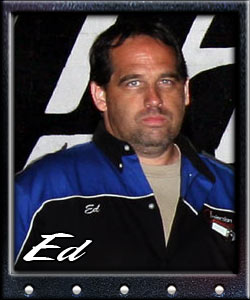 Ed Harper: Crew / Maintenance

Hometown: Sicklerville, New Jersey
Age: 43
Occupation: J & E Performance Maintenance
Skills: Twenty eight years in the automotive performance industry with the latter years as the "E" in J&E Performance
Racing Credentials: Ed Harper is the glue that binds this whole team making it form into one winning enterprise with his substantial skills at maintaining the top performing Outlaw 10.5 Mustang in the country as of 2008. Ed is on the track as the muscle behind the maintenance of the J&E Performance Mustang winning with expert composition of details to make sure this car gets into a winners circle primed with each round for its best possible run and making sure Joe Newsham is safe inside and afterwards on each pass. His skills have led Joe Newsham not only to the amazing finish of 2008 but earlier years as well he has been an inegral part of many of the teams records and race accomplishments.


About Ed Harper: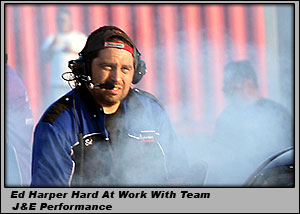 As well as anyone knows, preparation is 90% of the performance factor. Ed Harper handles the prep and maintenance on this vicious Mustang since it was built and the previous versions of J&E Performance Outlaw cars that were prior to this amazing combination. Harper is one of the main ingredients to the wining combination of perfection in team control and having the Mustang ready for its passes giving Newsham his best chance at a win or a new record.

Ed's skills have earned him the adoration of many racing members of the same class as a quiet man with a lot of integrity to back up his never ending quest for Team J&E Performance to show their best at each race by being ready to compete in each round.


View Our Recent Racing News About Team J & E Performance Here: